We believe having a chat can brighten your day
The Chatty Cafe scheme aims to get people chatting and reduce loneliness.
What is The Chatty Cafe Scheme?
The Chatty Café Scheme began by encouraging cafes and other venues to have a Chatter & Natter table which is where customers can sit if they are happy to talk to other customers. Since Covid-19 we've introduced weekly one-to-one calls and online Chatty Café sessions which are for anyone aged 18 and over.
Find a Chatty Cafe near you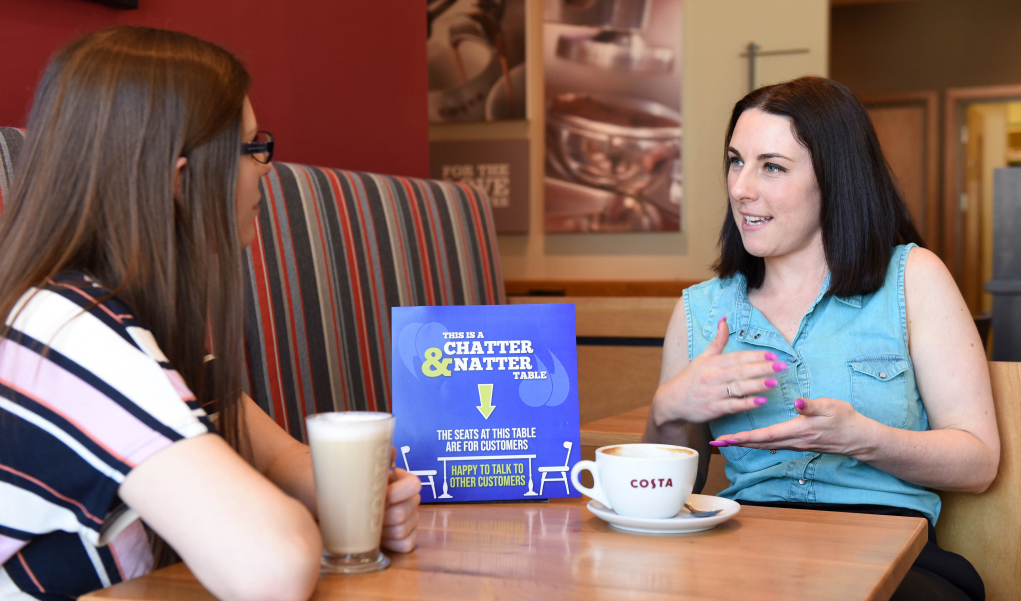 Register to add your venue
Learn more about the many benefits of registering as a Chatty Cafe venue and sign up here.
Add your venue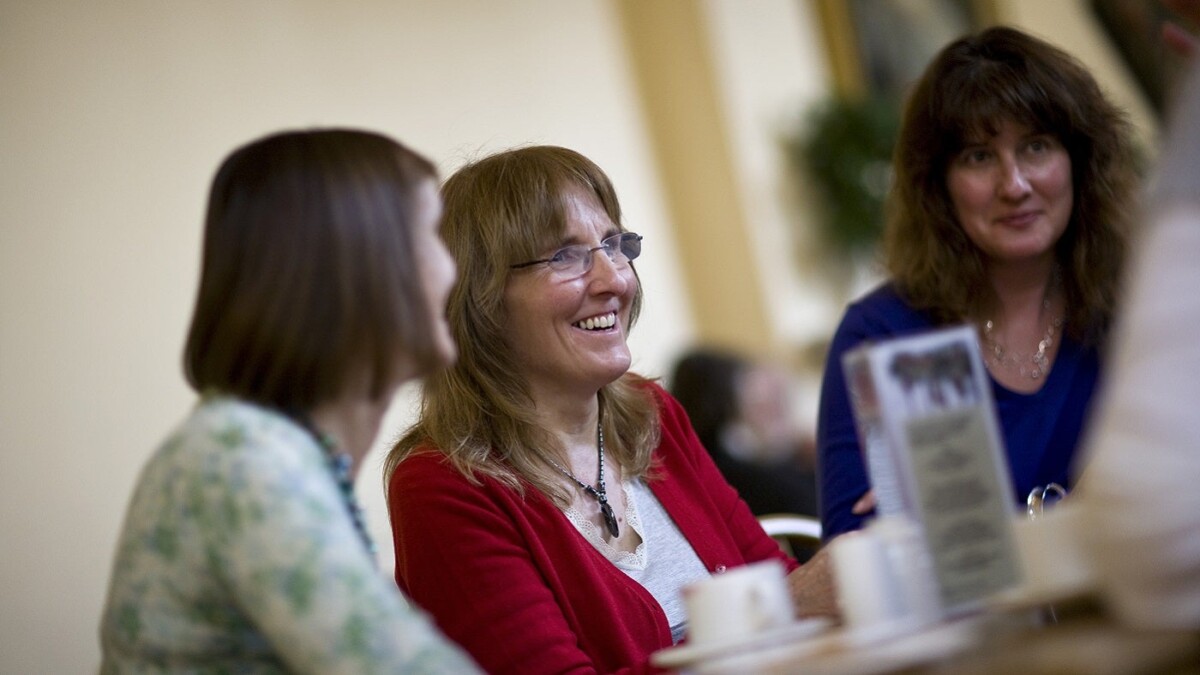 Volunteer
Help combat social isolation and loneliness by volunteering your time at a Chatty Cafe near you.
How to volunteer
What they say
"I don't consider myself isolated, but I'm looking forward to going to one of these, just to chat to people I don't normally chat to, and be part of the escape from the 'glued-to-a-screen' culture"

Jane Dent, United Kingdom
"I have long periods where I don't speak to anyone, I can go a few days without speaking to anyone. After the call I feel happier and calmer. It helps me feel part of things. At the end of each day I think, did I speak to anyone today? And Monday's I always can say I did."

Andy, Norfolk, Receiving weekly calls from a Chatty Volunteer
"It just helps to chat to someone to get things off your chest, after my call I feel a lot better."

Amy, Oldham, Receiving weekly calls from a Chatty Volunteer
"Joining the Virtual Chatty Cafe allowed me to meet like-minded people from far and wide for interesting conversations which benefited me on both a personal and professional level as well as contributing to the community project I run. It was a great source of support to be able to meet with other people involved in promoting community well-being in various forms and it was fun too!"

Carol, Cornwall, after attending a virtual Chatty Cafe session
"A bit of honest laughter and conversation with so many different people in all walks of life makes you realise that many people suffer with loneliness and the lack of companionship. It also makes you more understanding of what other people are dealing with when all it takes is a conversation and a bit of understanding and kindness to make a difference. The Chatty Café Scheme is a simple idea which produces amazing results by just talking and communicating with others."

Colin, Wolverhampton, after attending a virtual Chatty Cafe session
"Thanks very much for another enjoyable Zoom Chat today."

Mohammed, Oldham, after attending a virtual Chatty Cafe session
"We're part of this scheme and our Chatter & Natter table is used daily. You never know what people are going through and a nice chat can mean the world to someone."

Mooplehog cafe, Okehampton, England
"I think the scheme is amazing, it certainly is making a difference here and I love seeing how it is spreading, you guys do a fantastic job."

Red Lodge Sports Pavillion, Bury Saint Edmunds, England
"We joined the Chatty Cafe Scheme and we're proud to say it's going really well."

Moments Cafe & Hub, Plymouth, England
"What a truly wonderful idea, imagine the healing that can occur over a cuppa."

Hummingbirds Events & Workshops
"After the success of The Chatty Cafe at Morley Library, we're going to roll it out to 3 of our libraries. We're looking to expand The Chatty Cafe Scheme across Leeds."

Leeds City Council, Leeds, England
"You should be very proud – our customers are absolutley loving it. Congratulations!"

The Daisy Cafe, Exeter, England
"The box of goodies is so useful. Thank you, I am so impressed with the Welsh translation too, it is important here! It's a great help."

Val Bethell, Cafe Owner, Wales
"We hold a Chatter & Natter table as part of The Chatty Cafe Scheme every Friday. We dedicate this table to those on their own looking for someone to chat to, whether its for five minutes while you drink a brew, or an hour of good conversation."

Cafe Chaos, Truro, England